Book Description
From the popular Mountaineers Books series, Best Hikes With Kids – this is the book that covers the State of New Mexico: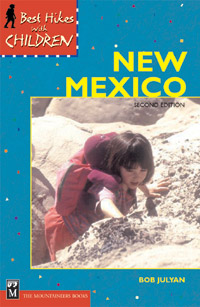 * Guidebook to 61 hikes your children can do
* Hikes near urban areas including Albuquerque, Santa Fe, Taos, Carlsbad, and Los Cruces
* Includes ideas on keeping children engaged and having fun on the trail
The trails in Best Hikes with Children in New Mexico, 2nd Ed. are chosen for kid appeal: they feature things to do and see along the way, whether it be a waterfall slide, a tadpole pool, or a mysterious cave lined with petroglyphs. Trips are rated by age range and difficulty. Turnaround points — convenient and scenic places to shorten the hike and still feel satisfied — are noted.