Book Description
From the popular Mountaineers Books series, Best Hikes With Kids – this is the book that covers the State of Colorado: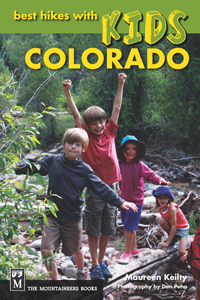 * Guidebook to Colorado hikes selected for kids and their parents
* Previously published as Best Hikes with Children in Colorado, this guidebook has a new title, a colorful new design including two-color throughout, and all new maps and photographs
* More than 15 completely new hiking routes, and all route descriptions thoroughly updated
From short, simple hikes in the foothills of Denver and Boulder to more challenging trails up majestic 14,000-foot peaks, Best Hikes with Kids: Colorado shows how to hit the trail with ease. Veteran guidebook writer and hiker Maureen Keilty describes the best trails all over the Rocky Mountain State, with hikes near Grand Junction, Durango, Colorado Springs, Vail, Crested Butte, and all along the Front Range.
This guidebook includes a "Getaways" list to the best family-friendly destination campgrounds, and playful advice on engaging kids with nature.
Book Description
From the popular Colorado Mountain Club Guidebook series – this is the book that covers the State of Colorado:
An easy-to-use guide to 50 of the best Front Range hikes for children
* Kid-friendly trail ratings and symbols
* Detailed directions and full-color easily readable maps
* Sidebars on historical and educational information, as well as activities children can enjoy on the way home from each hike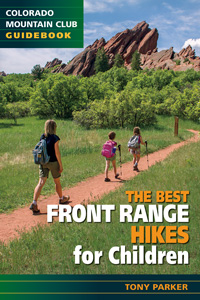 Colorado's Front Range is a wonderful place to introduce children to the outdoors and hiking. From Fort Collins to Denver and Boulder and south to Colorado Springs, trails abound for kids who love spending time outside. This essential guide helps parents select age-and ability-appropriate trails at a glance with a handy rating system. Choose trails that are fun and just challenging enough for children between the ages of two and 16.
From wheelchair accessible to more challenging trails, the 50 hikes that comprise this guidebook were selected for their variety, ease of access, unique natural beauty, educational opportunities, and proximity to some of the best known attractions along the Front Range, including the Platte River, Pikes Peak, Mount Evans, and Rocky Mountain National Park.
Children may spot wild turkeys while exploring the Hornbek Homestead trail near Colorado Springs; enjoy trekking across the lands of an early settlement in the Bobcat Ridge Natural area near Fort Collins; or catch a glimpse of a bighorn sheep along the Waterton Canyon trail south of Denver.