Book Description
From the popular Mountaineers Books series, Best Short Hikes – this is the book that covers the State of Arizona:
* More than 60 short Arizona hikes (ranging from a fraction of a mile to just over 7 miles round trip)
* A mix of popular hikes and little-known gems showcasing scenic Arizona hiking
* Many hikes in or accessible from major metro areas plus destination parks and landmarks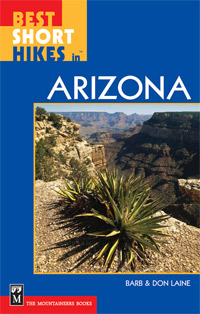 Don and Barbara Laine present the best of the best of Arizona's short hikes-with an emphasis on "user-friendly." To make selection easy, a "Hikes at a Glance" chart lists trails by distance, elevation gain, difficulty, and location. Other charts list hikes by best places to admire rock formations, see desert plant life, enjoy scenic views, explore historic and prehistoric sites, relax along a shady stream or lake, take the kids, or see wildlife. Important details such as entry fees, restrooms, drinking water, and campground information are listed up front; there's a map and elevation profile for each hike.
That's to say nothing of the breadth of experiences (from sandy desert floor to steep mountainside and riparian environment) awaiting you; or the detailed trail descriptions with tips on where Hollywood movies were filmed and background on old cabins and mines. Most hikes are rated easy or moderate-making them perfect for families-plus a selection of more strenuous hikes.
Regions include the Phoenix, Sedona, Tucson/southern Arizona, and Flagstaff/northeastern Arizona areas; the Grand Canyon (north and south rims) and Petrified Forest National Parks; and Organ Pipe and Chiracahua National Monuments.